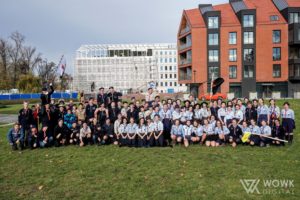 Last weekend, the European High Patrol Weekend took place in Wrocław, western Poland: an international event in which one scout and one guide high patrol from every FSE association can participate. A high-patrol consists of the patrol leaders and troop/company leaders of a guide company or a scout troop.
Eleven high-patrols took advantage of this occasion and, joined with a twinned high-patrol from another country, took part in the treasure hunt game. The game gave in the same time to everybody the occasion to discover the beauty of the city of Wrocław. They were also getting to know each other during the evening campfire, and some had the opportunity to try their hand at making a huge quantity of one thousand dumplings for dinner!
Sunday began with a Holy Mass in Latin, after which the patrols could prove themselves in signalling and culinary games. There was also an opportunity to try Polish delicacies, such as oscypek (smoked cheese typical for Tatra mountains), kiełbasa (Polish sausage) or Ptasie mleczko (chocolate-covered candy).
We hope that all the patrols in Poland felt at home and the contacts we have made will turn into long-term friendships!
Magdalena Wójcik, company leader of 14th Warsaw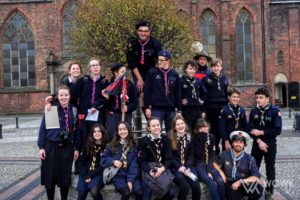 📷 Krzysztof Wowk – Wowk Digital